Purpose
We, at Doctor Obesity Clinic, aim to provide solutions to treat obesity and help prevent, manage, and resolve obesity-related illnesses like type 2 diabetes mellitus, hypertension, cardiovascular disease, stroke, sleep apnea, gallbladder disease, PCOS, eating disorders, and osteoarthritis, to name a few. We hold the following values: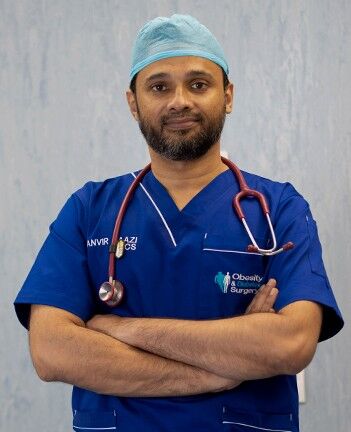 Dr. Tanvir Raazi Ahmad
MBBS, FRCS (UK)
Medical Practice
Dr. Tanvir Raazi Ahmad strongly believes in honesty and professionalism. His surgical practice is based on ethics, scientific research, and modern principles.
Using a patient-centric approach, Dr. Tanvir ensures that his patients and their loved ones are involved in their treatment plan and well-informed every step of the way.
Furthermore, he has consistently maintained the highest international benchmarks of surgical quality by using advanced and reliable techniques.
Today, Dr. Tanvir has completely dedicated his knowledge and skills to spread awareness of the effectiveness of Bariatric and Metabolic Surgical Treatments in preventing, treating, managing, and reducing life-threatening illnesses like type 2 diabetes mellitus and obesity and other medical conditions like infertility, osteoarthritis, obstructive sleep apnea, and cancer.
Inspiration
In 2013, while working as a Leading Consultant Surgeon at Dr. Soliman Fakeeh Hospital in Jeddah, Saudia Arabia, Dr. Tanvir was intrigued by a revolutionary procedure called Bariatric and Metabolic Operation. An operation that has the capacity to potentially cure diabetes and obesity. Seeing the significant impact the surgery has on the overall patient's quality of life, Dr. Tanvir decided to dedicate his practice to the treatment and prevention of obesity as a full-time Bariatric Surgeon. On realizing the scarcity of this life-changing treatment in the healthcare system of Pakistan, he decided to pursue it and bring it home to Karachi.
Having extensive experience and training as a Laparoscopic Surgeon, he traveled to Egypt, Germany, and Sweden to nurture his skills and gain experience and knowledge of the intricacies of Bariatric and Metabolic Surgery.
Career
Dr. Tanvir devoted twelve years in Ireland and the UK towards excelling in General, Colorectal, Breast Cancer, and Laparoscopic Surgery.
On his return to Pakistan in 2007 he served as a consultant surgeon at Indus Hospital where he established the Advanced Laparoscopic, Endocrine, and Cancer Surgery Department as well as the Postgraduate Surgical Training Program. In 2011, he was appointed as the Chief of Surgery at Patel Hospital in Karachi.
In 2013, he joined the prestigious Dr. Soliman Fakeeh Hospital in Jeddah, Saudi Arabia, where he went on to perform more than 1000 successful surgeries.
In 2018, he returned to Karachi and started his Bariatric Surgery practice at South City Hospital, Clifton. In line with his aim to spread awareness and offer affordable treatments for obesity and related diseases, he established a private practice named Obesity and Diabetes Surgery (now named Doctor Obesity Clinic).
Education
Fluent in English, Urdu, and Arabic, Dr. Tanvir is a member of the International Federation for the Surgery of Obesity and Metabolic Disorders (IFSO). He is also a member of the International MGB/OAGB Surgeons Organization (MGB-OAGB Club). Dr. Tanvir obtained his FRCSEd in 1999 from The Royal College of Surgeons, Edinburgh, UK.
Dr. Tanvir received his MBBS from Sindh Medical College in 1993 and completed his internship at Jinnah Postgraduate Medical Center.
A certified Upper Gastrointestinal Endoscopy and Colonoscopy surgeon, Dr. Tanvir graduated from the Irish Surgical Residency Program under The Royal College of Surgeons in Dublin, Ireland, in 2007. He also obtained a diploma in Laparoscopic Surgery from Louis Pasteur University, Strasbourg, France.